---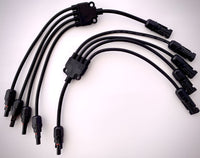 The 4-1 MC4 Solar Panel Connectors can be used to make 4 parallel connections for solar panels or solar arrays that have a combine current of 30 Amps or less.
These 4-1 MC4 Solar Panel Connectors are water resistant with an Ingress Protection rating of 67.

Total length of the 4-1 MC4 Solar Panel connector is 480mm, each one of the 4 branches uses 4mm2 double insulated solar cable and joins down to the main line that uses 6mm2 double insulated solar cable. The pins and cable are tin plated copper making them more corrosion resistant than bare copper.